New Castle School of Trades:

Where Women Come to Train
Women have worked hard to make a name for themselves while combatting a variety of stereotypes. Today, women are continually breaking the mold and paving the way for future generations. Our world has repeatedly witnessed the progression and the major impacts they've had in several industries. It has become more common for women to forego the journey of earning a desk job. Instead, they're pursuing the path of becoming a welder, a machinist, or an electrician. Let's take a look at some essential facts about the role women are playing within the trades.
WOMEN MAKING THEIR MARK in the trades industry
For decades, women have been advocating for a seat at the industrial table. Honoring Tradeswomen is a high-profile example. Five U.S. senators created this bill in 2003 to impose more attention on breaking down the barriers women face when entering the skilled trades. The bill did help increase the number of women in vocational fields. However, there are still predictions of labor shortages. They predict a shortage of 400,000 operators, both male and female, by 2024.
In contrast, there becomes an increase in demand at a steady pace. For instance, the demand for electricians and HVAC professionals is predicted to grow by 14% by 2024. This is a much faster pace for job growth than on average. Instead of shying away from a career in skilled trades, women can pursue the opportunity and utilize their talents.
BENEFITS FOR WOMEN INTERESTED IN SKILLED TRADES
It's important not to let these factors stop the momentum. Here are a few reasons why women should seek to enter skilled trades.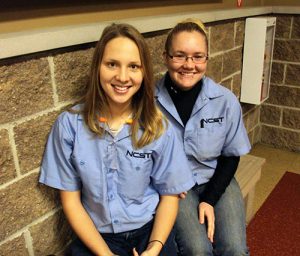 Train and become a skilled tradeswoman in roughly half the time and at half the cost than spent at a traditional college
Receive hands-on technical experience from trained professionals
Job Placement Assistance provided by trade school
Job security and flexibility
Pave the way for other women and be a role model
Join a community of tradeswomen supporting each other
Potential to be your own boss and start your own business
WOMEN LOOKING TO ESTABLISH A CAREER IN THE TRADES
There's no denying that women have made significant strides within the skilled trades industry. From construction professionals working on building a home to machinists repairing aerospace parts, more women are making their way into the vocational industry. If you're ready to earn your education in an exciting, hands-on trades career, we want to hear from you.
New Castle School of Trades offers two campuses with 12 different trade programs. Begin training today at our New Castle, PA or East Liverpool, OH Campus for an in-demand career. We are where women come to train!